Microneedling
The SkinPen is the first FDA-cleared microneedling device approved for use in the US. Collagen induction therapy, or microneedling, is a great way to address skin deterioration, lines and wrinkles, photo-damage, poor tone, enlarged pores, scarring, acne scarring, and uneven pigment such as age spots or hyperpigmentation. This treatment induces or triggers the body's natural wound healing process by safely and comfortably creating thousands of micro-injuries in the skin for remodeling new collagen and elastin, two proteins that become damaged and disordered as we age or our skin becomes damaged. The skin becomes more youthful, smoother, and more beautiful.
Microneedling: Before and After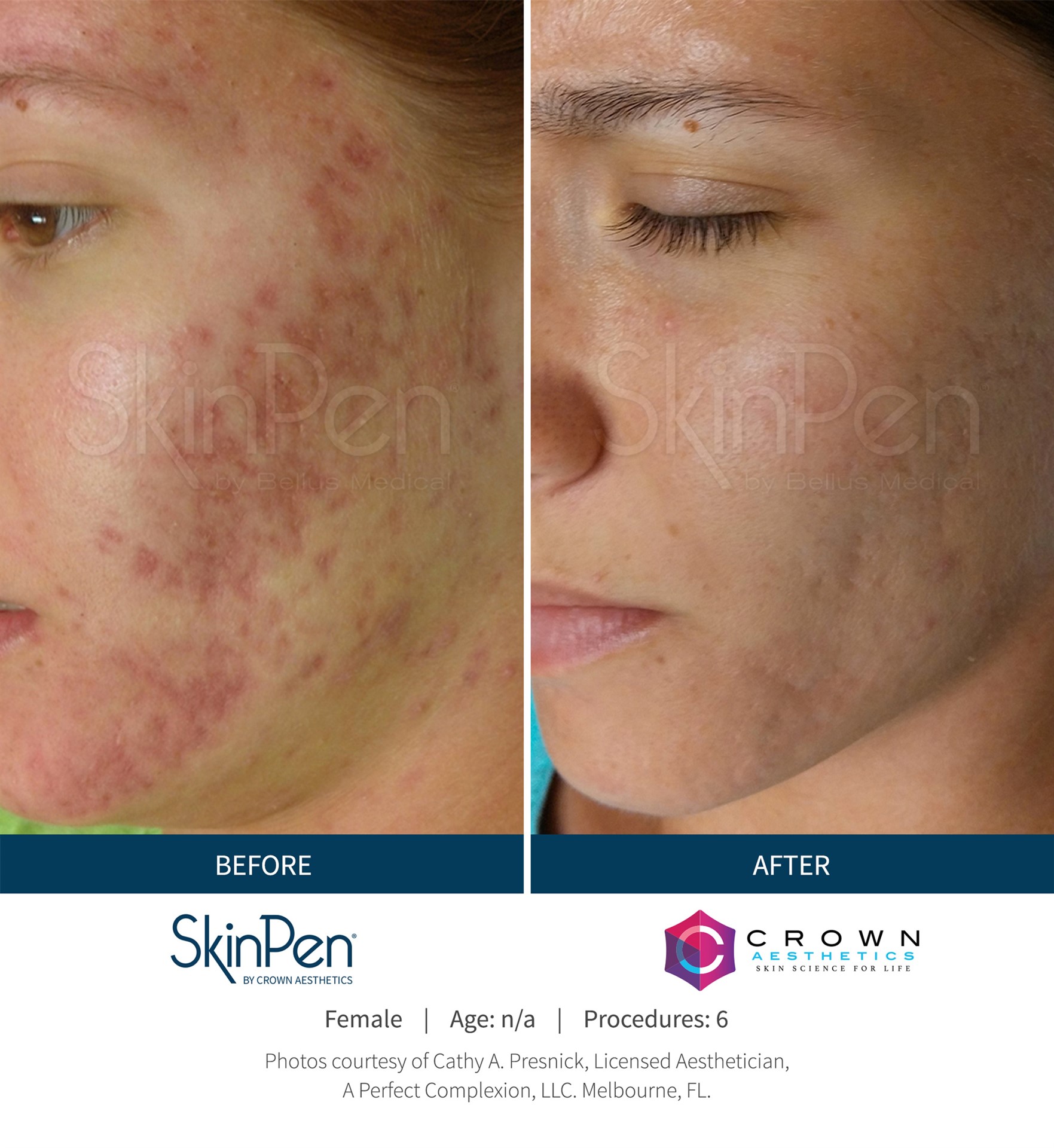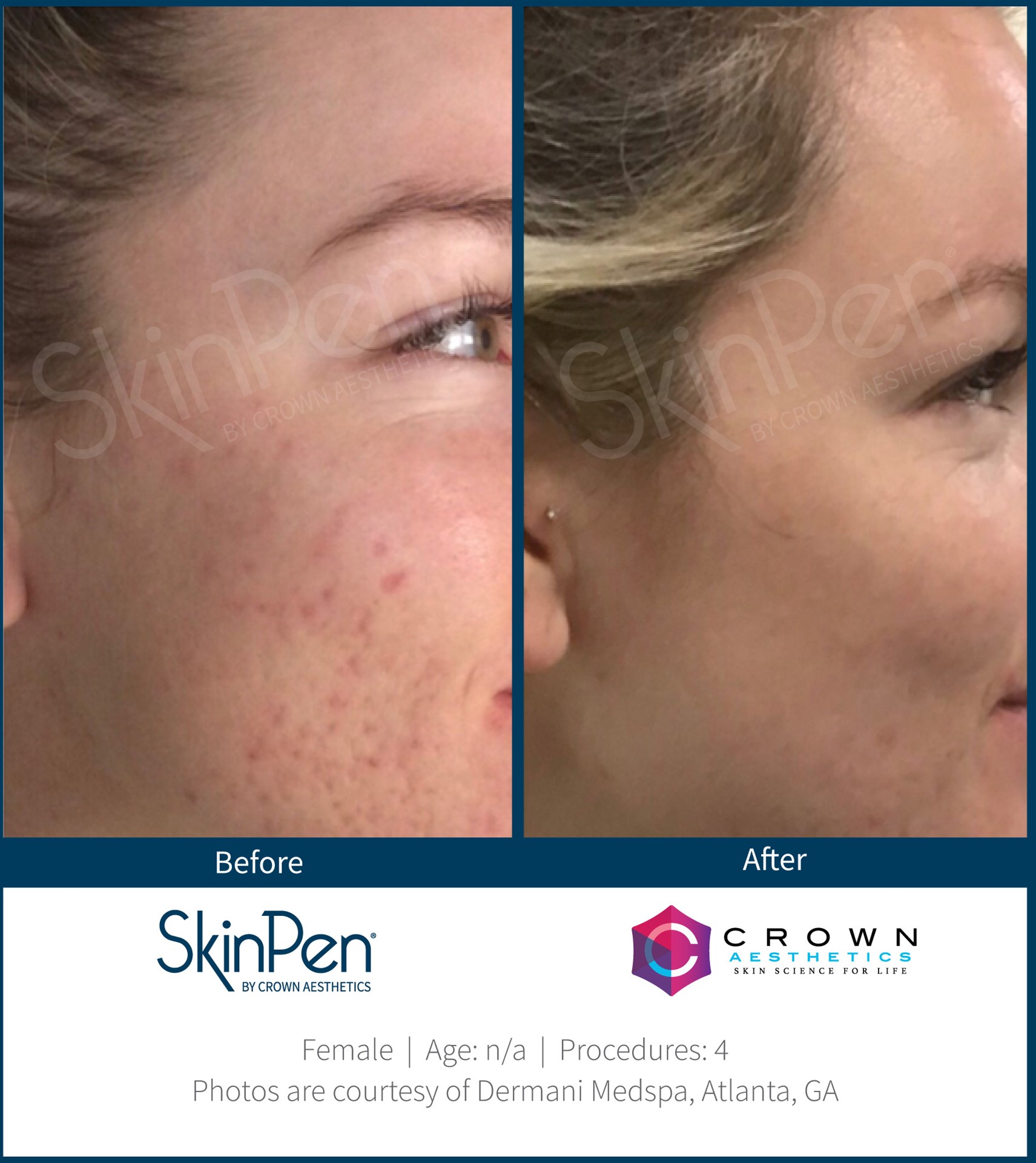 More about SkinPen Microneedling
Questions and Answers
How is microneedling performed?
The skin is thoroughly cleansed, dried, and a topical anesthetic agent is applied to the skin for several minutes. The microneedling device is used over the skin, which has several very tiny surgical-grade needles that oscillate rapidly into the upper dermis of the skin to create small, controlled micro-injuries. These micro-injuries stimulate the body's natural healing process through cytokines and growth hormones to produce new collagen and elastin for younger, smoother skin. Additional products are often placed on the skin such as hyaluronic acid, Vitamin C, or even PRP for even better results.
How long does microneedling take?
The treatment takes 45 minutes – 1 ½ hours depending on the treatment area involved. This includes numbing times.
What does microneedling feel like? Does it hurt?
A topical anesthetic cream is applied to the treatment area for several minutes before starting, so minimal discomfort is felt during the treatment. You may feel a Velcro-like prickly sensation across the skin and some vibration.
What areas of the body can be treated with microneedling?
Any area can be done. But the whole face should be done as a unit, not just the forehead. I always recommend you include the neck as well, as this is overlooked. You should often include the décolleté or upper chest as well. Any area such as hands, thighs, abdomen, buttock, etc, can be included to improve the skin's appearance or tone.
How long is my recovery time and what is it like?
Most healing takes place within 5-7 days, although some may take longer. There will be some redness and peeling with lessening throughout that time. You may have slight bruising and swelling as well.
Can I wear makeup after a microneedling treatment? What products must I use? What other restrictions do I have?
No makeup should be applied for at least 3 days, and only the products recommended by your physician should be used. In addition, say "no" to any sun exposure and be prepared to use sunscreen and a wide-brimmed hat FOREVER! It is a necessity.
How many microneedling treatments should I have?
You will need an initial series of 4-6 treatments occurring regularly every 4-8 weeks for best stimulation of new collagen and elastin fibers to grow. Some may need more based on the skin's condition. After the initial burst therapy stimulation, then maintenance treatments should be done every 3-6 months based on individual needs and your particular skin. A good skincare regimen is a must.
When will my skin see the most benefits of microneedling?
You will see the most results and have complete healing and stimulation of the skin in about 6 months after the treatment, although you will see results more quickly than this.

Blog
More information about microneedling and related procedures can be found on our Blog
Microneedling Post-Treatment Skincare:
These products are designed to nourish and protect your skin in the days following a microneedling treatment.